About the Tour
Imagine, just imagine the throngs of slaves that have walked this route, taken off the ships near the Castle and led in irons to the slave lodge; think of the settlers, adventurers, missionaries and soldiers disembarking near the Parade; imagine doffing your hat to the governor as he leaves the Castle on his way to the Company's Garden; picture brawling seamen and soldiers, public executions outside the Castle walls; imagine mingling with the crowds on the Grand Parade when Princess Elisabeth arrived at the City Hall or when Nelson Mandela spoke from its balcony; imagine also the soccer fanatics gathering on the Grand Parade for public viewing in 2010; visualize the eager crowds when the postal ships arrived; imagine, meeting famous visitors, such as David Livingstone on Church Square, or famous residents such as Anreith the sculptor; Schutte, the builder; Thibault and Sir Herbert Baker, the architects; or Jan Smuts, the President. Add your own footprint to the tens of thousands that have walked this route, brimming with history, from the Castle to the former Slave Lodge.
Tour Producer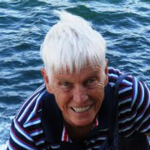 Ursula Stevens
Hello, and welcome to Cape Town. I have written several books about Cape Town and the greater region. I am a tour guide and regularly conduct walking tours around Cape Town. I also speak several languages and have lived in Cape Town for over fifty years. It is my home, I love it and I hope to make you fall in love with our city as well. I can't show you all the places of interest, nor can I take you to all the monuments and statues. All I can do is dangle that proverbial carrot before your nose to tempt you to explore further.
How VoiceMap Works
Focus on your surroundings, not the screen
VoiceMap's audio tour app uses GPS to play audio automatically, at the right time and place. Just install it, then download your tour and go to the starting point to begin your walk, drive, cycle, train trip or even boat ride.
Follow a route with turn-by-turn-directions
Tours follow a route from a fixed starting point. This is how we provide turn-by-turn directions. It also helps publishers tell a story greater than the sum of its parts. But you can use Resume to pick up a tour from the closest location whenever you like.
Listen as many times as you like
You can listen to your tours as often as you like using both the VoiceMap app and the VoiceMap website. Your access to tours doesn't expire.
Take virtual tours anywhere
Just select Virtual mode in the VoiceMap app to listen to tours at home – or anywhere else. You'll see the option after you download the tour. You can also listen to the whole tour here on the website.
Buy for less on voicemap.me and sync
Once you've purchased a tour, it's added to your VoiceMap library. If you sign into the app using the same method you used on the website, you'll have access to your full library of tours in both places.
Use VoiceMap offline
The VoiceMap app works entirely offline if there's no data connection, so you don't have to pay roaming fees. Just download the tour over WiFi before you get started.
Major Landmarks
Castle of Good Hope

Cape Town City Hall

Cape Town Mutual Heights

Cape Town Groote Kerk

Cape Town Church Square

Iziko Slave Lodge
Directions to Starting Point
Our starting point is the Castle of Good Hope, on the corner of Darling and Castle Streets. The Cape Town train station is not far from here. Another option is the MyCiti bus service, route 102. However, bear in mind that buses only run every 60 minutes over weekends and public holidays. During the week, they run every 30 minutes. One day tickets can be purchased at bus stations. I suggest you travel to the Castle by taxi, as parking in the city is also difficult.
Show Directions
Buying for somebody else?
If you'd like to give VoiceMap tours as a gift, you have two options: choose the tours yourself, or buy a voucher redeemable against any of VoiceMap's tours in 167 cities worldwide.
Buy a gift voucher

VoiceMap tours for large groups
If you'd like to provide groups of guests with access to a VoiceMap tour, you can buy a specific number of copies for a particular event or obtain a license for more regular use.
Find out more

Tips
Places to stop along the way
Along the route, pop into the former Drill Hall, now a busy library; stand on the steps of the former City Hall; mingle with the shopping crowds on the Grand Parade on Wednesday or Saturday morning or do a bit of bargaining in the Post Office's Central Bazaar; satisfy your hunger in the Eastern Food Bazaar; put your head into Muller's Optometrists and at the end of the walk, visit the Slave Lodge Museum.
Best time of day
Between 09:30 and 15:30 to avoid the traffic rush. Some buildings, such as Groote Kerk, are only open to visitors on weekdays from 10:00 to 14:00. Darling Street and the Grand Parade are the scene for the Minstrel Carnival over New Years, occasional military parades and political demonstrations and may be a little difficult to negotiate.
Precautions
Keep an eye on your belongings. Pickpockets are known to operate in the area. Do not display jewellery and don't have anything valuable in the back or side pockets of your rucksack. Don't open your purse or wallet to beggars.
As a pedestrian you are very vulnerable when competing with the traffic. Always look to the right, then left, then right again.
Do not rely on the 'green' pedestrian man at a traffic light; his appearance is often in conflict with traffic turning into your path. So take great care when crossing the street.