Les fortifications: un héritage unique en Amérique du Nord
Walking Tour
|

45 mins
|

0.6mi
About the Tour
Retracez l'histoire de Québec en vous promenant le long des fortifications pour découvrir leur passé militaire. À la fin de cette visite à pied, vous serez familiarisé avec ce site historique, ainsi qu'avec le mélange unique de styles architecturaux, influencés par les Français et les Britanniques, que présentent de nombreux bâtiments environnants.
En chemin, vous découvrirez la conquête anglaise et une attaque moins connue menée par une armée américaine. Je dresserai un portrait qui vous permettra d'imaginer ces lieux durant les périodes d'attaques et de sièges, et pendant les périodes paisibles où, au parc de l'Esplanade, de grands rassemblements avaient lieu lors des défilés militaires. Vous découvrirez également le patrimoine religieux omniprésent du Vieux-Québec et, en particulier, celui des environs.
Cette visite de 60 minutes commence à la Fontaine de Tourny et se termine sur la célèbre Place d'Youville, véritable carrefour de divertissement.
Tour Producer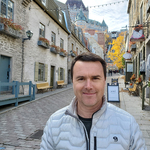 Sébastien Ivers
"English follows."
Je vis à Québec et j'ai étudié l'histoire ici, à l'Université Laval. J'ai commencé à travailler comme guide touristique en 1997 tout en étudiant et j'ai décidé de continuer à travailler dans le tourisme afin de partager ma passion pour l'histoire et les langues avec chaque visiteur que j'aurais la chance de rencontrer. En 2004, j'ai fondé ma propre compagnie de guides touristiques, Tours Voir Québec, et je la dirige toujours aujourd'hui. Au fil des ans, en ajoutant des ressources précieuses à l'entreprise, nous avons pu développer une large gamme de circuits et nous travaillons toujours à en développer davantage. Depuis de nombreuses années, Tours Voir Québec est salué par les principaux revendeurs de circuits touristiques, comme Tripadvisor et Get Your guide, comme étant la première entreprise de visites guidées à pied urbaines au Canada. J'espère que ma passion pour notre ville et ses environs se manifestera dans les différentes visites audio que je propose sur Voicemap. Bonnes découvertes!
I live in Quebec city and I studied history here, at the Laval University. I started working as a tour guide in 1997 while stuying and decided to keep working in tourism in order to share my passion for history and languages with every visitor I would have the chance to meet. In 2004, I founded my own tour guide company, Tours Voir Québec, and I still operate it today. Over the years, by adding precious resources to the company, we have been able to develop a wide range of tours and we are still working to develop more. Since many years, Tours Voir Québec is praised by major tour resellers, like Tripadvisor and Get Your guide, as being the number one city walking tour company in Canada. I hope that my passion for our city and its surroundings will show in the different audio-tours I am offering on Voicemap. Enjoy!
Major Landmarks
Mur de fortifications ouest

Fontaine de Tourny

Porte Saint-Louis

Cercle de la Garrison

rue Sainte-Ursule

Porte Saint-Jean

Place d'Youville et ses théâtres
Directions to Starting Point
La visite débute à la Fontaine de Tourny devant l'Assemblée Nationale du Québec .
Show Directions
Buying for somebody else?
If you'd like to give VoiceMap tours as a gift, you have two options: choose the tours yourself, or buy a voucher redeemable against any of VoiceMap's tours in 167 cities worldwide.
Buy a gift voucher

VoiceMap tours for large groups
If you'd like to provide groups of guests with access to a VoiceMap tour, you can buy a specific number of copies for a particular event or obtain a license for more regular use.
Find out more

Tips
Places to stop along the way
Si certains sont ouverts, je recommande d'entrer dans Le Diamant et l'église Chalmers-Wesley. Assurez-vous de consulter les horaires des théâtres Palais Montcalm, Le Diamant et Le Capitole.
Best time of day
Cette visite peut être effectuée à tout moment. Sauf pendant les 10 jours du Festival d'été qui a lieu en juillet, où il peut y avoir des détours à faire et devrait absolument être fait avant les concerts.
Precautions
Portez des chaussures confortables, la marche vous mènera sur une pente raide. Habillez-vous en fonction des conditions météorologiques.