About the Tour
Kilts, bagpipes, Gaelic, clans and hot Jacobites (I'm looking at you, Jamie Fraser) - so many of our Scottish stereotypes come from the Highlands.
Inverness has always been the capital of the Highlands, the gateway between the Highland and Lowland communities. Yet Inverness has a complicated relationship with its highland heritage. On this tour you will delve into that relationship through ancient legends, invented traditions and a battle about a cheese.
Tour Producer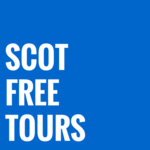 Scot Free Tours
Scot Free Tours was started in 2016 by born and bred Aberdonian Lia Sanders. Since then we have expanded across the North-east of Scotland and have started making audio tours. The idea is to give you the freedom to explore at a time that suits you - while still getting our 'take' on a place, with all the funny, gruesome or unexpected details that involves.
We'd love to hear what you think of the tour so get in touch via Facebook or our website.
Major Landmarks
Old High Church

Inverness Castle
Directions to Starting Point
The tour starts on High Street, on the pavement across the street from Inverness Town House. It is 4 minutes walk from Inverness railway station and 6 minutes away from Inverness bus station.
Show Directions
Buying for somebody else?
If you'd like to give VoiceMap tours as a gift, you have two options: choose the tours yourself, or buy a voucher redeemable against any of VoiceMap's tours in 167 cities worldwide.
Buy a gift voucher

VoiceMap tours for large groups
If you'd like to provide groups of guests with access to a VoiceMap tour, you can buy a specific number of copies for a particular event or obtain a license for more regular use.
Find out more

Tips
Places to stop along the way
Leakey's Bookshop, Inverness Museum and Art Gallery, Inverness Castle, Harry Gow bakery (try one of their delicious dream rings)
Best time of day
The tour is best completed between 12pm and 4pm, Tuesday to Friday, and between 11am and 4pm on Saturdays when Leakey's Bookshop and the Inverness Museum and Art Gallery is open.
Precautions
Inverness can get quite chilly, particularly in the winter months. Make sure to dress appropriately for the weather.