Spokes and Scoops: Denver's Top Ice Cream Spots by Bicycle
Cycling Tour
|

75 mins
|

9.1mi
About the Tour
For anyone who loves ice cream, bicycles, and neighborhood gazing as much as I do - this route is for you! I've mapped out the best ice cream spots in Denver, based on their gourmet-style scoops as well as their location in explorable districts. In case four ice cream stops sounds excessive, you can justify it by the fact that you'll be pedaling along by bicycle. Use of B-Cycle (Denver's public bike share system) is encouraged. A sweet taste of Denver on two wheels, with plenty of inside scoops!
You can use the Uber and Lyft apps to find bikes and ebikes to rent nearby.
Tour Producer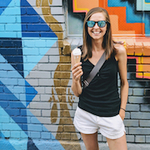 Cynthia Ord
I'm a Denver native and street taco enthusiast with nomadic tendencies. During my long stints abroad, you're likely to find me blabbering in broken Spanish about my Mile High hometown and its mountainous backyard.
When I'm in Colorado, you can find me pedaling a mountain pass on my road bike, hiking a 14er, or working my 9-5 at a cannabis tour company (yes, that's a thing!). I also host Airbnb guests and whoever else I can convince to come visit.
Major Landmarks
Highland Arch Bridge Denver
Directions to Starting Point
Little Man Ice Cream in Highlands (a.k.a. LoHi) is located at 2620 16th St. Best ways to reach the starting point are by bicycle, a rideshare app, or a 20-minute walk from Union Station - downtown Denver's public transport hub. Highly recommended: Use Denver's B Cycle bike share system. Starting point is across the street from the 16th and Boulder station.
Show Directions
Buying for somebody else?
If you'd like to give VoiceMap tours as a gift, you have two options: choose the tours yourself, or buy a voucher redeemable against any of VoiceMap's tours in 167 cities worldwide.
Buy a gift voucher

VoiceMap tours for large groups
If you'd like to provide groups of guests with access to a VoiceMap tour, you can buy a specific number of copies for a particular event or obtain a license for more regular use.
Find out more

Tips
Places to stop along the way
Along this route, you'll find city parks and green spaces to take a break, as well as great local breweries and delicious taco joints. You'll also pass award-winning public arts projects with Instagram-worthy photo ops and the Denver Art Museum. The route ends on 16th Street Mall - Colorado's most visited site. Plan an extra hour afterward for strolling along 16th Street through downtown and into LoDo.
Best time of day
Late afternoon or evening. Ice cream shops open between noon and 2pm and start closing at 10pm.
Precautions
Lines at ice cream shops can be up to 20 minutes long during popular times. Each ice cream stop is in a fun pedestrian-friendly district with alternate / additional browsing options.