About the Tour
A walk through the ages, 350 years of history jam-packed into 8 hectares of ground, that's the Company's Garden!
"…there is a garden which the Company has had made; I should very much like to see it in a corner of Versailles. There are walks, as far as the eye can see, through orange trees and lemon trees, through the kitchen gardens, espaliers and dwarf trees, and all that intersected by streams of running water", so wrote Abbé de Choisy in 1685.
Today, you will explore a greatly transformed garden as you follow the shrill cry of Hadeda ibises and Egyptian geese, gambol with the squirrels, sit quietly in the shade of ancient trees and contemplate the story of the Cape. Meet Queen Victoria, Governor Grey, Jan Smuts, Cecil John Rhodes, Sir Henry Lukin, Castor and Pollux. Imagine heated arguments in the National Parliament; enjoy the quiet of the National Library; marvel at exhibits in the Art Gallery and Museum and, if you are lucky enough, you may bite into a pear of the oldest fruit tree in the garden, the Saffron Pear.
Tour Producer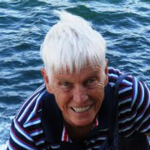 Ursula Stevens
Hello, and welcome to Cape Town. I have written several books about Cape Town and the greater region. I am a tour guide and regularly conduct walking tours around Cape Town. I also speak several languages and have lived in Cape Town for over fifty years. It is my home, I love it and I hope to make you fall in love with our city as well. I can't show you all the places of interest, nor can I take you to all the monuments and statues. All I can do is dangle that proverbial carrot before your nose to tempt you to explore further.
Major Landmarks
National Library of South Africa Cape Town Campus

South African National Gallery

Iziko South African Museum

Cape Town Hebrew Congregation
Directions to Starting Point
This tour starts next to the Jan Smuts statue in front of the Slave Lodge at the top of Adderley Street. Parking is available on Queen Victoria Street, at the Taj Hotel Garage or at the African Pride "15 on Orange" Hotel on Orange Street near the SA Museum.
Alternatively, you may choose to travel by bus or train: the MyCiti Bus Station and Cape Town Railway Station are situated on lower Adderley Street. From there it is a short walk up to the Company's Garden.
Show Directions
Buying for somebody else?
If you'd like to give VoiceMap tours as a gift, you have two options: choose the tours yourself, or buy a voucher redeemable against any of VoiceMap's tours in 167 cities worldwide.
Buy a gift voucher

VoiceMap tours for large groups
If you'd like to provide groups of guests with access to a VoiceMap tour, you can buy a specific number of copies for a particular event or obtain a license for more regular use.
Find out more

Tips
Places to stop along the way
South African National Gallery, South African Museum, The Company's Garden Restaurant near the Rhodes statue
Best time of day
The Company's Garden is open every day, except for one day in early February when it's the opening of Parliament. Opening times are: 07h30 to 20h30 (summer) and 07h00 to 19h00 (winter).
Recommended visiting times are between 09h00 and 16h00 from Monday to Saturday. The Garden is fairly deserted on Sundays and therefore, less safe.
Government Avenue remains open at all times.
Precautions
Beware of pickpocketing and beggars.