Cape Town on Foot: St. George's Cathedral to Greenmarket Square
Walking Tour
|

20 mins
|

0.6mi
About the Tour
On this tour you'll walk along St George's Mall, once known as Venus Street, to Greenmarket Square. A long time ago, seafarers would have wandered here in search of a tavern or boarding house. Wealthy burghers, whose elegant homes lined the street, would have sent their slaves off to Greenmarket Square to restock the larder, and a dentist would have fitted you with a set of wooden teeth... Or you could have engaged in a friendly chat with Baroness von Ludwig in her tobacco shop.
Bishop Robert Gray may not have approved of smoking and imbibing, but he too ambled down St. George's Mall. And much later, so did Cecil John Rhodes. More recently you might have had the fortune to shake hands with Nelson Mandela, as he wound his way from the Mandela Rhodes Building to St. George's Cathedral.
Ah yes, and today? You'll be able to mingle with the crowds, browse the souvenir and food stalls, cafes and restaurants, and admire some of the remarkable architecture of the boisterous Greenmarket Square. Here you can join in with the holiday mood, tap your feet, or even dance a little to the spirited tunes of cheerful singers and drummers.
Tour Producer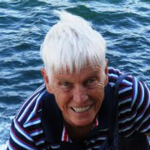 Ursula Stevens
Hello, and welcome to Cape Town. I have written several books about Cape Town and the greater region. I am a tour guide and regularly conduct walking tours around Cape Town. I also speak several languages and have lived in Cape Town for over fifty years. It is my home, I love it and I hope to make you fall in love with our city as well. I can't show you all the places of interest, nor can I take you to all the monuments and statues. All I can do is dangle that proverbial carrot before your nose to tempt you to explore further.
Major Landmarks
Cape Town's St Georges Cathedral

The Mandela Rhodes Foundation

Iziko Old Town House Museum

Central Methodist Mission
Directions to Starting Point
The tour starts in front of the Crypt at St. George's Cathedral. From the train or MyCiti bus station, walk up Adderley Street, past the Slave Lodge and then into Wale Street to St. George's Cathedral. Parking is possible in the Mandela Rhodes Building (entrance in Burg Street), or in Queen Victoria Street.
Show Directions
Buying for somebody else?
If you'd like to give VoiceMap tours as a gift, you have two options: choose the tours yourself, or buy a voucher redeemable against any of VoiceMap's tours in 167 cities worldwide.
Buy a gift voucher

VoiceMap tours for large groups
If you'd like to provide groups of guests with access to a VoiceMap tour, you can buy a specific number of copies for a particular event or obtain a license for more regular use.
Find out more

Tips
Places to stop along the way
St. George's Cathedral, FNB Bank, Newspaper House. You'll also find a multitude of cafes and restaurants in St. George's Mall and Greenmarket Square.
Best time of day
Best time to walk the route is between 9am and 4pm, Mondays to Fridays, and 9am to noon on Saturdays. On Sundays the streets are fairly deserted and lack atmosphere and security.
Precautions
Be aware of beggars and street children. Do not carry valuables in the back pockets of your rucksacks, and avoid wearing jewellery or keeping your phones in shirt or blouse pockets – quick and nimble fingers might extract them.