About the Tour
Mary Queen of Scots, Hilary Clinton and Alice in Wonderland - just a few of the people who have visited St Andrews to extraordinary consequences.
Follow in their footsteps as I take you round some of the town's best known sites and tell you some of the lesser known stories.
You'll find out why Prince William was almost turned down for his first flat, where the last relics of St Andrew can be found and why the people of St Andrews spent £5,000 on a statue of a cat. Along the way, you'll get a sense of what makes this sleepy seaside town tick and why there is something rotten at its core.
Welcome to St Andrews.
Tour Producer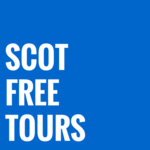 Scot Free Tours
Scot Free Tours was started in 2016 by born and bred Aberdonian Lia Sanders. Since then we have expanded across the North-east of Scotland and have started making audio tours. The idea is to give you the freedom to explore at a time that suits you - while still getting our 'take' on a place, with all the funny, gruesome or unexpected details that involves.
We'd love to hear what you think of the tour so get in touch via Facebook or our website.
Major Landmarks
St Andrews' Cathedral

St Andrews' Castle

Prince William's old flat

Old Course

The R&A Clubhouse

St Salvator's Chapel
Directions to Starting Point
Start on North Street, across from the main entrance to St Andrews' Cathedral. There is a cobbled section with some flower boxes and benches.
If coming to St Andrews via train, the bus at Leuchars railway station takes you to the St Andrews bus station which is about 10 minutes walk from the tour start point.
Show Directions
Buying for somebody else?
If you'd like to give VoiceMap tours as a gift, you have two options: choose the tours yourself, or buy a voucher redeemable against any of VoiceMap's tours in 167 cities worldwide.
Buy a gift voucher

VoiceMap tours for large groups
If you'd like to provide groups of guests with access to a VoiceMap tour, you can buy a specific number of copies for a particular event or obtain a license for more regular use.
Find out more

Tips
Places to stop along the way
Attractions: St Andrews' Castle, Museum of the University of St Andrews
Food and Drink: Fisher and Donaldson (the fudge doughnuts are legendary), The Blue Stane, Ma Bells
Best time of day
You can do this tour any day of the week. If doing the tour on Sundays you will not be able to get into St Mary's College - but it is the only day of the week you will be able to walk on the Old Course. It is best to start this tour between 9am and 4pm to increase the chances of St Salvator's Chapel being open. Please note, St Andrews' Cathedral is currently closed for grounds inspection.
Precautions
Be careful when crossing roads - St Andrews' drivers don't take prisoners!