About the Tour
A 16th-century engineering marvel will guide our way from the river to one of Prague's most picturesque parks. On our tour, I will show you some hidden signs of the tunnel below our feet. You will find a beer garden with a perfect view over the old town, Europe's oldest wooden carousel, the place where the first Czech electric tramway was launched and streets full of garden restaurants. You'll learn where the world's largest Stalin statue was located and why many buildings on our way had to be reinforced with wooden beams.
Tour Producer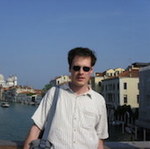 Christoph Amthor
I lived in Prague for about 20 years, working as a journalist, co-founder of an NGO, blogger and software developer.
How VoiceMap Works
Focus on your surroundings, not the screen
VoiceMap's audio tour app uses GPS to play audio automatically, at the right time and place. Just install it, then download your tour and go to the starting point to begin your walk, drive, cycle, train trip or even boat ride.
Follow a route with turn-by-turn-directions
Tours follow a route from a fixed starting point. This is how we provide turn-by-turn directions. It also helps publishers tell a story greater than the sum of its parts. But you can use Resume to pick up a tour from the closest location whenever you like.
Listen as many times as you like
You can listen to your tours as often as you like using both the VoiceMap app and the VoiceMap website. Your access to tours doesn't expire.
Take virtual tours anywhere
Just select Virtual mode in the VoiceMap app to listen to tours at home – or anywhere else. You'll see the option after you download the tour. You can also listen to the whole tour here on the website.
Buy for less on voicemap.me and sync
Once you've purchased a tour, it's added to your VoiceMap library. If you sign into the app using the same method you used on the website, you'll have access to your full library of tours in both places.
Use VoiceMap offline
The VoiceMap app works entirely offline if there's no data connection, so you don't have to pay roaming fees. Just download the tour over WiFi before you get started.
Major Landmarks
Letná Mansion

National Technical Museum
Directions to Starting Point
We'll start at the bottom of the wide flight of stairs on Nábřeží Edvarda Beneše, in front of the bridge called "Čechův most". It's about 10 minutes north of the Old Town Square. The stairs lead up to the Metronome monument, but we will start down at street level. The nearest tram stop is only a few meters away, and is also called "Čechův most".
Show Directions
Buying for somebody else?
If you'd like to give VoiceMap tours as a gift, you have two options: choose the tours yourself, or buy a voucher redeemable against any of VoiceMap's tours in 167 cities worldwide.
Buy a gift voucher

VoiceMap tours for large groups
If you'd like to provide groups of guests with access to a VoiceMap tour, you can buy a specific number of copies for a particular event or obtain a license for more regular use.
Find out more

Tips
Places to stop along the way
Beer garden at Letná Chateau, National Technical Museum, restaurant Phở u Letné, café Pod Lipami, park café Šlechtovka
Best time of day
The best time is from morning to late evening. The museums are closed on Mondays, but the tour is just as enjoyable without paying them a visit.
Precautions
The area we'll be walking through is not very touristy, and it's very safe. Just watch out for the traffic as you cross the roads.