About the Tour
Explore one of the most important quarters of Prague, which is almost entirely unknown to visitors. You will receive a first-hand experience of the industrial past and the recent development. We will look behind the façades and learn about floods as well as Prague's Communist past. The route goes along pavements and can be managed with a pram or reduced mobility.
Tour Producer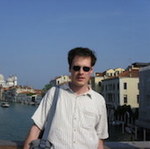 Christoph Amthor
I'm living in Prague for over 15 years, working as a journalist, co-founder of an NGO, blogger and software developer.
Major Landmarks
The Prague Market

DOX Centre for Contemporary Art
Directions to Starting Point
We start at the tram stop called "Pražská tržnice", which is about 15 minutes from the centre of Prague. If you're travelling on the metro, use the red "C" line and get off at the stop called "Vltavská". Then walk follow the tram lines with the river on your right until you reach the tram stop, or climb on any tram leaving in that direction.
Show Directions
Buying for somebody else?
If you'd like to give VoiceMap tours as a gift, you have two options: choose the tours yourself, or buy a voucher redeemable against any of VoiceMap's tours in 167 cities worldwide.
Buy a gift voucher

VoiceMap tours for large groups
If you'd like to provide groups of guests with access to a VoiceMap tour, you can buy a specific number of copies for a particular event or obtain a license for more regular use.
Find out more

Tips
Places to stop along the way
Vegetable Market, Café Přístaf, Avion Street Café, Marina and Avion 58 restaurants and breweries, DOX Gallery, Cross Club
Best time of day
Monday to Saturday, from morning to afternoon. Please bear in mind that the DOX gallery is closed on Tuesdays.
Precautions
Mind the traffic. The market area might get a little rough at night, as people start arriving for their stag parties and other boisterous activities.