Against the Stormy Sea: A walk around North Berwick's Old Town
Walking Tour
|

45 mins
|

0.9mi
About the Tour
This walking tour takes you around the old medieval boundaries of North Berwick.
You'll hear how the town developed from its early beginnings as a staging post for the pilgrims going to St Andrews towards the holiday and Edinburgh satellite that it is today.
The tour has been adapted for audio from a tour developed by Dave Berry. It is narrated by Martin White, with personal reminiscences of his family's long association with North Berwick voiced by Dave Berry himself and a Robert Louis Stevenson memory of the St Andrews Kirk, voiced by Vincent Guy.
You'll Hear of
• The harbour's history and use
• The boundaries of the medieval town
• The pilgrim and other trading
• The evolution of its main streets, market and parklands
• The start of its lifeboat service
• The Stevenson connection
• The golf trail
Tour Producer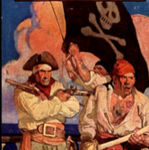 Martin White
The walking tour was devised by Martin White. Martin is a native of Edinburgh and now promotes the story of Robert Louis Stevenson's time in the Lothians. He is a Director of the European Cultural Route In the footsteps of Robert Louis Stevenson. He runs the website www.mrrls.com which provides a great springboard for people to enjoy the Stevenson story.
Major Landmarks
The Harbour

St Andrews Kirk

The Lodge and Gardens
Directions to Starting Point
The start is at the west end of Melbourne Road where there is a recessed area for disabled parking and ice cream vans in summer. There are steps beside it leading in the direction of the Seabird Centre.
Show Directions
Buying for somebody else?
If you'd like to give VoiceMap tours as a gift, you have two options: choose the tours yourself, or buy a voucher redeemable against any of VoiceMap's tours in 167 cities worldwide.
Buy a gift voucher

VoiceMap tours for large groups
If you'd like to provide groups of guests with access to a VoiceMap tour, you can buy a specific number of copies for a particular event or obtain a license for more regular use.
Find out more

Tips
Places to stop along the way
Seabird Centre, The Harbour, Lobster Shack, Steampunk Coffee, The Lodge Gardens, The Coastal Communities Museum
Best time of day
Do it in daylight hours. Avoid a high spring tide if you want to take the shortest route along the beach.
Precautions
The area is very safe. Watch out for sea spray!