About the Tour
From the traditional land owners of what we know as Melbourne today, to the very recent history when Melbourne's street art culture was born - this GPS-triggered walking tour has interviews, music and a diverse range of topics packed into a one hour stroll (and one tram ride) through Melbourne's CBD.
Hi, I'm Mitch and I'll be your host for this lovely little jaunt. Along the walk, I'll introduce you to a few people I spoke with from around Melbourne to try to give you a feel for what makes this city tick, and how it came to be.
You will be engaged from start to finish and the walk will give you a good foundation of knowledge and appreciation of Melbourne so that you can go out and explore it on your own afterwards.
All music credited to https://icons8.com/music/
Tour Producer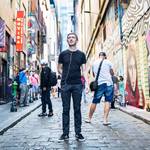 Mitchell Secrett
Hi I'm Mitch - an audio producer, voice-over and podcast specialist.
I'm also a huge fan of the city I live in - Melbourne. That's why I spent close to a year interviewing people, researching and producing this audio tour of the city.
Come join me!
Major Landmarks
Federation Square

Bourke St. Mall

Princes Bridge

Hamer Hall Melbourne
Directions to Starting Point
Open the tour on the Voicemap app, press start and then click "Get Directions". This will open Apple or Google Maps with directions to get to the exact starting point.
The five shields that the tour starts from are located just across from the Artplay building on the banks of the Birrarung Mar.
Make your way to Fed Square first and then walk down the river, down the closest bank, for about 200 m. You'll see the red brick Artplay building on your left. The starting point is on the other side of the path to the Artplay building up opposite to the furthest edge.
You can get to Fed Square by tram (stop at the corner of Federation/Swanston) or train (Flinders St. Station) and then use the walking instructions above to get to the starting point. You're directed everywhere to go once you find the starting point.
Show Directions
Buying for somebody else?
If you'd like to give VoiceMap tours as a gift, you have two options: choose the tours yourself, or buy a voucher redeemable against any of VoiceMap's tours in 167 cities worldwide.
Buy a gift voucher

VoiceMap tours for large groups
If you'd like to provide groups of guests with access to a VoiceMap tour, you can buy a specific number of copies for a particular event or obtain a license for more regular use.
Find out more

Tips
Places to stop along the way
The Koorie Heritage Trust building, Australian Centre for the Moving Image (ACMI), Hosier Lane, Centre Place, Degraves, Bourke St. Mall, Myer, Chinatown, Hamer Hall welcome desk
Best time of day
Anytime between 9am and 5pm as the Centreway Arcade closes at 6pm most days.
During the day on a weekday would be best so there are less people around!
Precautions
There are a couple of small set of stairs that need to be climbed.
Always look for the green light before crossing the road!
It's better to be too slow than too fast.