Fisherman's Village - Marina del Rey
Walking Tour
|

40 mins
|

1.4mi
About the Tour
Set off from Fisherman's Village to walk around H Basin in Marina del Rey, America's largest recreational marina. A stroll along the docks of G basin will lead you to beautiful Burton Chace Park, where you can watch boats sail by in the main channel. Get your boat on and explore the Marina.
Tour Producer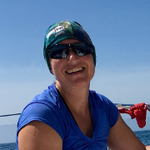 Sunshine Jen
I have lived in LA since 2002, and I do like walking around it. I have also walked around Spain and Italy, and I have written books about it. I also sail boats. You can find out more about me at: www.sunshinejen.com
Major Landmarks
Directions to Starting Point
Take the Starline Tour Bus or the Culver City 7 Bus to Fisherman's Village, walk across the parking lot to the light house.
You can also park for free at Dock 52 on Fiji Way. Walk out of the parking lot, turn right, and walk to Fisherman's Village.
You can also take the Marina Water Bus to Fisherman's Village. You can find out about the water bus at: marinawaterbus.com
Show Directions
Buying for somebody else?
If you'd like to give VoiceMap tours as a gift, you have two options: choose the tours yourself, or buy a voucher redeemable against any of VoiceMap's tours in 167 cities worldwide.
Buy a gift voucher

VoiceMap tours for large groups
If you'd like to provide groups of guests with access to a VoiceMap tour, you can buy a specific number of copies for a particular event or obtain a license for more regular use.
Find out more

Tips
Places to stop along the way
Fisherman's Village has plenty of restaurants. Also, Marina del Rey Boat Rentals, Marina del Rey Parasailing, and Marina del Rey Sportfishing are there. There are also large boat charter companies: Hornblower and Tiki Mermaid.
Marina Del Rey Visitors Center has tons of info about the marina. They are open weekdays 9-5, weekends 10-4, and closed on Christmas, New Years, Thanksgiving and Easter. Their website is www.visitmarinadelrey.com
If you're interested in a ride around the marina in a waterbus, visit this website for more info - www.marinawaterbus.com
You can learn about Reef Check at www.reefcheck.org, and UCLA's marina weather station at marinaaquaticcenter.org
There is a shopping center on Admiralty and Mindanao with restaurants and grocery stores.
Burton Chace Park is a great place to sit and have a picnic and watch boats. You can find out about events in the park at the Visitors Center and at chacepark.com
Best time of day
Anytime during the day. Pack a picnic and hang out in Burton Chace Park.
You can find out the weather in the Marina from the website for UCLA's Marina Aquatic Center: www.marinaaquaticcenter.org
Precautions
Large parts of this walk are in the sun. Be sure to wear sunscreen or a hat. Be aware of boats on trailers.