About the Tour
Stroll through a variety of Venice locales. The walk starts with a wander along Venice's Grand Canal with its hip architecture and tranquil landscape. Then you move onto the wild Venice Beach, where you will see its world famous Muscle Beach and the cement canyons of the Skate Park. As the walk winds through streets to the Windward Circle, you can see art everywhere as you experience the bohemian spirit of Venice.
Tour Producer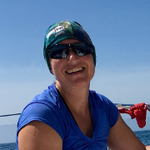 Sunshine Jen
I have lived in LA since 2002, and I do like walking around it. I have also walked around Spain and Italy, and I have written books about it. I also sail boats. You can find out more about me at: www.sunshinejen.com
Major Landmarks
Directions to Starting Point
This walk starts at the corner of Strongs Drive and Washington Boulevard, at the start of the path along the canal next to a small parking lot. The start point is near a bus stop for the Starline and Culver City 1 buses on Washington Boulevard. Look for a white wooden fence on the corner of Washington and Strongs.
Show Directions
Buying for somebody else?
If you'd like to give VoiceMap tours as a gift, you have two options: choose the tours yourself, or buy a voucher redeemable against any of VoiceMap's tours in 167 cities worldwide.
Buy a gift voucher

VoiceMap tours for large groups
If you'd like to provide groups of guests with access to a VoiceMap tour, you can buy a specific number of copies for a particular event or obtain a license for more regular use.
Find out more

Tips
Places to stop along the way
Muscle Beach, Venice Skate Park, Sidewalk Café
Best time of day
I recommend doing the tour early in the day, before the sun is too hot. Otherwise, it's really nice to be at the beach at sunset.
Precautions
Venice Beach is an eclectic community which attracts lots of awesome people - and some not so nice people. Be aware of your surroundings. You will be walking on the beach. Be aware of bikes on bike paths. Wear sunscreen.