About the Tour
A walking tour of historic Downtown Culver City filled with curiosities and restaurants. Along the way, you can experience the strange and fascinating Museum of Jurassic Technology, the historic Culver Hotel, the modern City Hall (with an old façade), and the Sony Pictures Studios, which was once the famous MGM lot where classic films like The Wizard of Oz, Gone with the Wind, and Singing in the Rain were made.
Tour Producer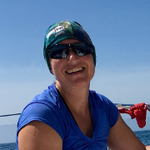 Sunshine Jen
I have lived in LA since 2002, and I do like walking around it. I have also walked around Spain and Italy, and I have written books about it. I also sail boats. You can find out more about me at: www.sunshinejen.com
Major Landmarks
Museum of Jurassic Technology

Culver City Hall

Kirk Douglas Theatre
Directions to Starting Point
You are starting your walk in front of Ivy Substation, on the corner of Culver Boulevard and Venice Boulevard. If you are taking a bus from Santa Monica or Venice, the 33 bus toward Downtown LA stops right at the corner. You can also take Metro Rail's Expo Line to the Culver City stop. When you get off the train, walk toward Venice Boulevard (or toward a shopping center). At Venice, cross Robertson, go under the bridge, and walk one block along a strip mall. When you come to Culver, cross the street. If you are taking a taxi, the address for Ivy Substation is 9070 Venice Boulevard.
Show Directions
Buying for somebody else?
If you'd like to give VoiceMap tours as a gift, you have two options: choose the tours yourself, or buy a voucher redeemable against any of VoiceMap's tours in 167 cities worldwide.
Buy a gift voucher

VoiceMap tours for large groups
If you'd like to provide groups of guests with access to a VoiceMap tour, you can buy a specific number of copies for a particular event or obtain a license for more regular use.
Find out more

Tips
Places to stop along the way
For information on performances by the Actors Gang at the Ivy Substation, you can visit their website: www.theactorsgang.com
The Museum of Jurassic Technology is open on Thursdays 2-8pm and Friday, Saturday and Sunday Noon to 6pm. Admission is $8.
There is a Farmer's Market on Main Street on Tuesdays 3pm-7pm. Excellent produce and food as well as stands with lunch.
The Culver Hotel bar has a happy hour 4pm - 7pm daily.
If you want to take a guided tour of Sony Pictures Studio, you can visit their website at www.sonypicturesstudiotours.com or call 310-244-8687.
To find out about performances at the Kirk Douglas Theatre, you can visit the website for Center Theatre Group: www.centertheatregroup.org/kirk-douglas
Best time of day
You can do the tour at any time, but I recommend doing the walk in the late morning or afternoon. There are many restaurants for lunch or dinner in Downtown Culver City.
Precautions
Be aware of cars when crossing streets and always cross with the light.