About the Tour
Enjoy a pleasant walk in Santa Monica. We'll start on busy Ocean Avenue before turning and walking down to the Beach, where you will see acrobats and bodybuilders working out Muscle Beach and Chess players focused on a game in Chess Park. Then, we will go up onto the Pier where you can ride some rides, play in the arcade, or walk out to the end to gaze out over the ocean. The walk then takes you north on the beach, around the parking lot, over the famous Pacific Coast Highway, and into Palisades Park with spectacular views of the water and a rich history all its own.
Tour Producer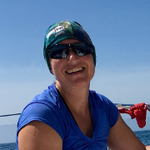 Sunshine Jen
I have lived in LA since 2002, and I do like walking around it. I have also walked around Spain and Italy, and I have written books about it. I also sail boats. You can find out more about me at: www.sunshinejen.com
Major Landmarks
Directions to Starting Point
The walk starts on the southwest corner of the intersection of Colorado and Ocean, outside the Lobster restaurant. If you are looking at the Lobster, the sign for the Santa Monica Pier will be on your right.
Show Directions
Buying for somebody else?
If you'd like to give VoiceMap tours as a gift, you have two options: choose the tours yourself, or buy a voucher redeemable against any of VoiceMap's tours in 167 cities worldwide.
Buy a gift voucher

VoiceMap tours for large groups
If you'd like to provide groups of guests with access to a VoiceMap tour, you can buy a specific number of copies for a particular event or obtain a license for more regular use.
Find out more

Tips
Places to stop along the way
Santa Monica Beach, Santa Monica Pier, Aquarium, Palisades Park
Best time of day
Anytime during the day is good. Sunsets are spectacular off the pier.
Precautions
On the beach and on the pier, there is very little shade, so be prepared to be in the sun. There will probably be crowds, so be aware of your belongings at all times.