Storie, misteri e leggende del Lago di Como lungo la Greenway
Walking Tour
|

40 mins
|

1.6mi
About the Tour
Scopri l'atmosfera unica della Greenway del Lago di Como e i paesaggi di rara bellezza che offre a chi la percorre. Faremo una piacevole passeggiata di 2,5 km da Ossuccio a Lenno, seguendo in parte l'antica Strada Regina dei Romani. Attraverseremo piccoli borghi, passeremo accanto a ville maestose e godremo di panorami mozzafiato sul lago. Ti racconterò le storie e le leggende che da sempre ammantano di mistero questo meraviglioso territorio.
Sapevi che il Sacro Graal era stato nascosto sull'isola Comacina? E del mostro che vive nelle profondità delle sue acque?
Questi e molti altri sono i misteri che non potrai mai scoprire da solo. Ho davvero molte storie incredibili da raccontare, quindi seguimi in questo tour guidato!
I punti più significativi lungo il cammino sono:
• l'isola Comacina, un piccolo isolotto dalla storia straordinaria e teatro di antiche leggende
• Oliveti affacciati sul lago di Como
• Villa Balbiano, un'antica ed elegante residenza nobiliare
• Il Golfo di Venere che cela una piccola Atlantide
• Antiche chiese romaniche
L'autentico patrimonio di storia, tradizione e natura del lago rivive attraverso le mie storie per un'esperienza indimenticabile.
Tour Producer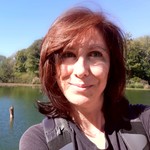 Loredana Testini
I am Italian and work as a naturalist guide in the week-end. Living in Lombardy, I often lead tours throughout the Lake Como region. I am passionate about old traditions, legends, as well as botanics and foraging.
How VoiceMap Works
Focus on your surroundings, not the screen
VoiceMap's audio tour app uses GPS to play audio automatically, at the right time and place. Just install it, then download your tour and go to the starting point to begin your walk, drive, cycle, train trip or even boat ride.
Follow a route with turn-by-turn-directions
Tours follow a route from a fixed starting point. This is how we provide turn-by-turn directions. It also helps publishers tell a story greater than the sum of its parts. But you can use Resume to pick up a tour from the closest location whenever you like.
Listen as many times as you like
You can listen to your tours as often as you like using both the VoiceMap app and the VoiceMap website. Your access to tours doesn't expire.
Take virtual tours anywhere
Just select Virtual mode in the VoiceMap app to listen to tours at home – or anywhere else. You'll see the option after you download the tour. You can also listen to the whole tour here on the website.
Buy for less on voicemap.me and sync
Once you've purchased a tour, it's added to your VoiceMap library. If you sign into the app using the same method you used on the website, you'll have access to your full library of tours in both places.
Use VoiceMap offline
The VoiceMap app works entirely offline if there's no data connection, so you don't have to pay roaming fees. Just download the tour over WiFi before you get started.
Major Landmarks
Isola Comacina

Oliveti

Villa Balbiano

Golfo di Venere
Directions to Starting Point
Il punto di partenza è ad Ossuccio in via statale n. 7 (indicativo) vicino alle strisce pedonali, proprio all'inizio della stradina selciata che conduce in discesa alla chiesa dei Santi Giacomo e Filippo. Qui trovi i cartelli gialli e blu della Greenway.
Se raggiungi Ossuccio in automobile, c'è un posteggio gratuito in via Statale n. 1, a circa 200 metri dal punto di partenza. Puoi anche posteggiare al Parking Greenway sull'altro lato della strada, a pagamento.
Puoi anche arrivare in autobus da Como, linea C10 – fermata Ossuccio/Spurano. Consulta gli orari sul sito https://www.asfautolinee.it/
Show Directions
Buying for somebody else?
If you'd like to give VoiceMap tours as a gift, you have two options: choose the tours yourself, or buy a voucher redeemable against any of VoiceMap's tours in 167 cities worldwide.
Buy a gift voucher

VoiceMap tours for large groups
If you'd like to provide groups of guests with access to a VoiceMap tour, you can buy a specific number of copies for a particular event or obtain a license for more regular use.
Find out more

Tips
Places to stop along the way
Villa Balbianello: i giardini e gli interni della villa con i passaggi segreti meritano una visita.
La Fabbrica del Gelato in Lenno, per un dolce e gustoso spuntino.
Best time of day
Tutto il giorno, da settembre a inizio giugno. In tarda primavera o in estate è da preferire la mattina.
Precautions
Sono necessarie scarpe comode e sportive. Porta con te una bottiglia d'acqua, occhiali da sole, un cappello e protezione solare. Lungo il percorso si trovano alcune fontanelle. Non dimenticare uno snack o barretta energetica. A Lenno è possibile pranzare nei vari bar e ristoranti.
Una breve parte del percorso è in salita ma è assolutamente fattibile.