Storie, misteri e leggende del Lago di Como lungo la Greenway
Walking Tour
|

40 mins
|

1.6mi
About the Tour
Scopri l'atmosfera unica della Greenway del Lago di Como e i paesaggi di rara bellezza che offre a chi la percorre. Faremo una piacevole passeggiata di 2,5 km da Ossuccio a Lenno, seguendo in parte l'antica Strada Regina dei Romani. Attraverseremo piccoli borghi, passeremo accanto a ville maestose e godremo di panorami mozzafiato sul lago. Ti racconterò le storie e le leggende che da sempre ammantano di mistero questo meraviglioso territorio.
Sapevi che il Sacro Graal era stato nascosto sull'isola Comacina? E del mostro che vive nelle profondità delle sue acque?
Questi e molti altri sono i misteri che non potrai mai scoprire da solo. Ho davvero molte storie incredibili da raccontare, quindi seguimi in questo tour guidato!
I punti più significativi lungo il cammino sono:
• l'isola Comacina, un piccolo isolotto dalla storia straordinaria e teatro di antiche leggende
• Oliveti affacciati sul lago di Como
• Villa Balbiano, un'antica ed elegante residenza nobiliare
• Il Golfo di Venere che cela una piccola Atlantide
• Antiche chiese romaniche
L'autentico patrimonio di storia, tradizione e natura del lago rivive attraverso le mie storie per un'esperienza indimenticabile.
Tour Producer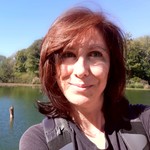 Loredana Testini
I am Italian and work as a naturalist guide in the week-end. Living in Lombardy, I often lead tours throughout the Lake Como region. I am passionate about old traditions, legends, as well as botanics and foraging.
Major Landmarks
Isola Comacina

Oliveti

Villa Balbiano

Golfo di Venere
Directions to Starting Point
Il punto di partenza è ad Ossuccio in via statale n. 7 (indicativo) vicino alle strisce pedonali, proprio all'inizio della stradina selciata che conduce in discesa alla chiesa dei Santi Giacomo e Filippo. Qui trovi i cartelli gialli e blu della Greenway.
Se raggiungi Ossuccio in automobile, c'è un posteggio gratuito in via Statale n. 1, a circa 200 metri dal punto di partenza. Puoi anche posteggiare al Parking Greenway sull'altro lato della strada, a pagamento.
Puoi anche arrivare in autobus da Como, linea C10 – fermata Ossuccio/Spurano. Consulta gli orari sul sito https://www.asfautolinee.it/
Show Directions
Buying for somebody else?
If you'd like to give VoiceMap tours as a gift, you have two options: choose the tours yourself, or buy a voucher redeemable against any of VoiceMap's tours in 167 cities worldwide.
Buy a gift voucher

VoiceMap tours for large groups
If you'd like to provide groups of guests with access to a VoiceMap tour, you can buy a specific number of copies for a particular event or obtain a license for more regular use.
Find out more

Tips
Places to stop along the way
Villa Balbianello: i giardini e gli interni della villa con i passaggi segreti meritano una visita.
La Fabbrica del Gelato in Lenno, per un dolce e gustoso spuntino.
Best time of day
Tutto il giorno, da settembre a inizio giugno. In tarda primavera o in estate è da preferire la mattina.
Precautions
Sono necessarie scarpe comode e sportive. Porta con te una bottiglia d'acqua, occhiali da sole, un cappello e protezione solare. Lungo il percorso si trovano alcune fontanelle. Non dimenticare uno snack o barretta energetica. A Lenno è possibile pranzare nei vari bar e ristoranti.
Una breve parte del percorso è in salita ma è assolutamente fattibile.