About the Tour
Explore the diverse, unique and unexpected beauty of Italy's Lake Como on a pleasant hike along the Greenway trail. We'll stroll along a 2,5km stretch from Ossuccio to Lenno, following parts of the old Roman Road. We'll pass through villages and open areas dotted with the ruins of ancient chapels. Along the way, with the calls of the old fishermen floating on the Ventone winds, I'll tell you the tale of an underwater church with bells that toll from deep in the lake.

Did you know about the Holy Grail hidden on the lake's only island? Or about the monster living in the depth of its waters? This tour is about the legends and mysteries that you'd never discover on your own. I have so many stories to tell, so join me on this guided tour!
The landmarks include:
• Comacina Island, a small piece of land rich in history and legends
• Olive trees overlooking the bays of Lake Como
• Villa Balbiano, an elegant, ancient mansion
• The Golfo di Venere that hides a small Atlantis
• Ancient churches such as the church of Saint Eufemia and Saint Stephen's
Let's pull back the curtain on these stories and discover the true heritage of Lake Como.
Tour Producer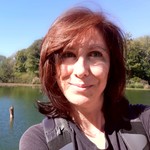 Loredana Testini
I am Italian and work as a naturalist guide in the week-end. Living in Lombardy, I often lead tours throughout the Lake Como region. I am passionate about old traditions, legends, as well as botanics and foraging.
Major Landmarks
Isola Comacina

Olive trees fields

Villa Balbiano

Golfo di Venere
Directions to Starting Point
The starting point is in Ossuccio, Via Statale n. 7, near the zebra crossing right at the beginning of a cobblestone path leading downhill to the Church of Saints Giacomo and Filippo. You will notice the blu and yellow sign "Greenway".
If you go there by car, there is a free parking at via Statale 1, within 200 meters walk from the starting point. You can also park at Parking Greenway, on the opposite side of the road (pay parking).
You can also get there by bus C10 from Como - bus stop Ossuccio/Spurano. Check timetable on https://www.asfautolinee.it/en/
Show Directions
Buying for somebody else?
If you'd like to give VoiceMap tours as a gift, you have two options: choose the tours yourself, or buy a voucher redeemable against any of VoiceMap's tours in 167 cities worldwide.
Buy a gift voucher

VoiceMap tours for large groups
If you'd like to provide groups of guests with access to a VoiceMap tour, you can buy a specific number of copies for a particular event or obtain a license for more regular use.
Find out more

Tips
Places to stop along the way
Villa Balbianello: the gardens and interiors with their secret staircases are worth a visit
La Fabbrica del Gelato in Lenno, for a tasty ice cream
Best time of day
All day long, from September to June. Best in the morning hours during late spring and summer.
Precautions
Cobblestone paths require sports shoes. Bring a bottle of water, sunglasses, a hat and sunblock. You can find some water fountains along the way. Don't forget a snack or an energy bar. You can have a meal once in Lenno.
Steep in a short section, but definitely doable.