Robert Louis Stevenson's Edinburgh Trail: The University Years
Walking Tour
|

45 mins
|

1.4mi
About the Tour
This walking tour takes you on a journey through Robert Louis Stevenson's university years, when he readied himself for a career as a writer instead of following in his father's footsteps and becoming a lighthouse engineer.
We'll explore Edinburgh's Gothic Old Town, which has a dark side that inspired some of Stevenson's best loved writing. We'll end the tour at Canongate Kirk where Scotland's three great Roberts – Burns, Fergusson and Stevenson – became forever connected.
Your narrator is John Shedden, one of Scotland's legends of the stage and screen who also helped with the design of the tour. The multi-talented Vincent Guy is the voice of Stevenson reading snippets from his writing.
Stevenson eventually left Edinburgh, never to return. But he was forever inspired by his memories of home.
On this tour, you can look forward to hearing about:
• Stevenson's brief career as an advocate
• The inspirations for Dr Jeykll and Mr Hyde
• Stevenson's views on Edinburgh and its weather
• The inspirations for The Deacon Brodie and Body Snatcher
• The inspiration for Long John Silver from Treasure Island
• Stevenson's connection to Rabbie Burns and Robert Fergusson
This tour is part of a series of walks around Edinburgh dedicated to the life of the celebrated author. You can find the others by search under Edinburgh or by selecting my author profile and seeing all my tours there.
Tour Producer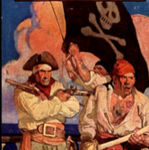 Martin White
The walking tour was devised by Martin White. Martin is a native of Edinburgh and now promotes the story of Robert Louis Stevenson's time in the Lothians. He is a Director of the European Cultural Route In the footsteps of Robert Louis Stevenson. He runs the website www.mrrls.com which provides a great springboard for people to enjoy the Stevenson story.
Major Landmarks
St Giles Cathedral

Parliament Square

Greyfriars Kirk

The Old College Quad at Edinburgh University

The old Royal Infirmary

Canongate Kirk
Directions to Starting Point
Begins at Advocates Close, on the Royal Mile directly opposite St Giles Cathedral
Show Directions
Buying for somebody else?
If you'd like to give VoiceMap tours as a gift, you have two options: choose the tours yourself, or buy a voucher redeemable against any of VoiceMap's tours in 167 cities worldwide.
Buy a gift voucher

VoiceMap tours for large groups
If you'd like to provide groups of guests with access to a VoiceMap tour, you can buy a specific number of copies for a particular event or obtain a license for more regular use.
Find out more

Tips
Places to stop along the way
St Giles Cathedral, Greyfriars Kirk, Edinburgh University
Best time of day
Precautions
The area is safe. Be careful when crossing roads.