Robert Louis Stevenson's Edinburgh Trail: The Childhood Years
Walking Tour
|

60 mins
|

2.1mi
About the Tour
This walking tour shows you Edinburgh's New Town through the eyes of Scotland's greatest author, Robert Louis Stevenson. We'll take a journey back through the first 16 years of his unusual life.
We'll turn our back on the Castle and Old Town, to explore parts of the New Town that had so recently been completed. We'll end the tour at the house where he was born.
Your guide is one of Scotland's legends of the stage and screen who also helped with the design of the tour, John Shedden. The multi-talented Vincent Guy is the voice of Stevenson reading snippets from his writing.
Stevenson eventually left Edinburgh, never to return. But he was forever inspired by his memories of home, and of his childhood.
On this tour you can look forward to hearing about:
• A number of the up-and-coming Stevenson family's homes
• The inspiration for The Child's Garden of Verses
• The inspiration for some of its best loved poems: The Lamplighter, Keepsake Mill and Windy Nights
• The schools he went to and the unusual patchwork of education that fed his fertile young mind and set him on the path to being an author
• Some of his early writing and thoughts about being an author
This tour is part of a series of walks around Edinburgh dedicated to the life of the celebrated author. You can find the others by searching under Edinburgh or by selecting my author profile and seeing all my tours there.
Tour Producer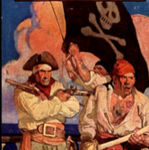 Martin White
The walking tour was devised by Martin White. Martin is a native of Edinburgh and now promotes the story of Robert Louis Stevenson's time in the Lothians. He is a Director of the European Cultural Route In the footsteps of Robert Louis Stevenson. He runs the website www.mrrls.com which provides a great springboard for people to enjoy the Stevenson story.
How VoiceMap Works
Focus on your surroundings, not the screen
VoiceMap's audio tour app uses GPS to play audio automatically, at the right time and place. Just install it, then download your tour and go to the starting point to begin your walk, drive, cycle, train trip or even boat ride.
Follow a route with turn-by-turn-directions
Tours follow a route from a fixed starting point. This is how we provide turn-by-turn directions. It also helps publishers tell a story greater than the sum of its parts. But you can use Resume to pick up a tour from the closest location whenever you like.
Listen as many times as you like
You can listen to your tours as often as you like using both the VoiceMap app and the VoiceMap website. Your access to tours doesn't expire.
Take virtual tours anywhere
Just select Virtual mode in the VoiceMap app to listen to tours at home – or anywhere else. You'll see the option after you download the tour. You can also listen to the whole tour here on the website.
Buy for less on voicemap.me and sync
Once you've purchased a tour, it's added to your VoiceMap library. If you sign into the app using the same method you used on the website, you'll have access to your full library of tours in both places.
Use VoiceMap offline
The VoiceMap app works entirely offline if there's no data connection, so you don't have to pay roaming fees. Just download the tour over WiFi before you get started.
Major Landmarks
Princes Street Gardens

Edinburgh Castle

Heriot Row/New Town

Edinburgh Academy

Cannonmills
Directions to Starting Point
Enter West Princes Street gardens and towards of the West of them, and west of the bandstand, you will readily see the prominent fountain. The start of the trail is just to its south east. Note: At the end of the tour a short bus journey up to the top of the Mound takes you very close to the start of the University Years tour
Show Directions
Buying for somebody else?
If you'd like to give VoiceMap tours as a gift, you have two options: choose the tours yourself, or buy a voucher redeemable against any of VoiceMap's tours in 167 cities worldwide.
Buy a gift voucher

VoiceMap tours for large groups
If you'd like to provide groups of guests with access to a VoiceMap tour, you can buy a specific number of copies for a particular event or obtain a license for more regular use.
Find out more

Tips
Places to stop along the way
Princes Street Gardens, Cannonmills
Best time of day
West Princes Street Gardens need to be open. They usually open early until late; but please check. They are occasionally closed for special events.
Precautions
The area is safe. Be careful when crossing roads.