About the Tour
Dundee: coolest city in Scotland or sink of humanity? On this audio tour you decide for yourself as I take you beyond Dundee's main tourist attractions.
During the tour you'll encounter a heroic pigeon, James Bond's grandfather and the world's worst poet. You'll learn why Winston Churchill vowed never to return here and how to survive in the Arctic.
The tour is perfect for first-time visitors to Dundee as well as those who want to learn more about their city - such as by finding out how Dundee came to own the largest cut emerald in existence.
Tour Producer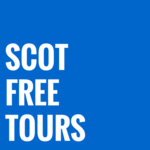 Scot Free Tours
Scot Free Tours was started in 2016 by born and bred Aberdonian Lia Sanders. Since then we have expanded across the North-east of Scotland and have started making audio tours. The idea is to give you the freedom to explore at a time that suits you - while still getting our 'take' on a place, with all the funny, gruesome or unexpected details that involves.
We'd love to hear what you think of the tour so get in touch via Facebook or our website.
Major Landmarks
The McManus Dundee's Art Gallery & Museum

V&A Dundee

RRS Discovery Museum Dundee

Desperate Dan statue
Directions to Starting Point
Start the tour next to the statue of Desperate Dan on High Street. He stands near the junction of High Street and Reform Street. It is six minutes walk from Dundee's train station or five minutes walk from the bus station.
Show Directions
Buying for somebody else?
If you'd like to give VoiceMap tours as a gift, you have two options: choose the tours yourself, or buy a voucher redeemable against any of VoiceMap's tours in 167 cities worldwide.
Buy a gift voucher

VoiceMap tours for large groups
If you'd like to provide groups of guests with access to a VoiceMap tour, you can buy a specific number of copies for a particular event or obtain a license for more regular use.
Find out more

Tips
Places to stop along the way
Attractions: McManus Museum and Art Gallery, V&A Dundee, RRS Discovery
Food and drink: Fisher and Donaldson, Draffens (speakeasy down Couttie's Wynd)
Best time of day
You can do this tour any day of the week. If you want to visit the McManus Museum and the V&A along the way, we recommend that you start the tour between 10 am and 4 pm on Monday to Saturday and between 12.30 pm and 3.30 pm on Sundays.
Precautions
Make sure to dress appropriately for the weather - it can get quite cold right beside the River Tay when you are near the V&A and RRS Discovery.