Snowdonia driving tour: Llanberis, Conwy and Caernarfon Castle
Driving Tour
|

120 mins
|

73.7mi
About the Tour
Cruise past sheep-speckled hills, glaciated landscapes, and stark slate quarry terraces on this circular drive around Snowdonia. I'll guide you to towering castles built by the English to subjugate the hardy Celts, including Conwy Castle, Caernarfon Castle, and Penrhyn Castle. You'll trace the coastline over mighty mountains and through lush valleys en route to medieval towns and Victorian villages like Llanberis, Abergwyngregyn and Llanfairfechan. All the while, I'll fill you in on local lore that you won't find on Wikipedia or in guide books.
I'll tell you about Snowdonia National Park and one of the most recently named UNESCO World Heritage Sites, the Slate Landscapes of North Wales. You'll see much older World Heritage Sites too on your way around part of Edward I's Iron Ring. Along the way, I'll tell you all about the dry stone walls you'll see on the hillsides, and the mountain farmers who've used the same shepherding techniques for centuries.
Other highlights on this tour include:
• Learning how to say Llanfairpwllgwyngyllgogerychwyrndrobwllllantysiliogogogoch at the llanfairpwllgwyngyll station, and how to decipher Welsh names
• Crossing the oldest suspension bridge in the world, the Menai Suspension Bridge, and hearing how it's connected to Lewis Caroll's Alice Through the Looking Glass
• Passing ancient barracks in Segontium Roman Fort that once housed 2,000 soldiers
• Comparing Dolbadarn Castle, an old Welsh castle, with several English-built World Heritage Fortresses en route
• Taking in the impressive Snowdon mountain, the highest in England and Wales
• Passing by a traditional Welsh woolen mill and having the opportunity to buy blankets that are still woven on water-powered looms today
• Understanding why Edward I's castles were like nothing that came before
• Hearing how thousands of Welshmen scooped huge and dramatic quarries out of mountains to roof the world
• Discovering how the Welsh language has survived to this day by incorporating other languages, and learning what a pobty ping is
By the end of the tour, you'll have gained an insider's perspective into everything from the Welsh language and our legends, to how modern industry and ecology co-exist with traditional ways of life. Allow yourself two hours for this driving tour, but be prepared to stop at some amazing spots along the way!
Tour Producer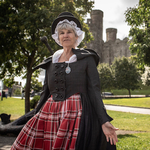 Amanda Whitehead
Hi there, I've been working as a tourist and mountain guide for 20 years and hold the official qualifications. I live in the medieval town of Conwy and love it so much. I have a History degree but the best thing about working on local tours is rooting out the stories of the past and present characters and events that haven't made the guide books and wikipedia!. Look forward to sharing them with you.
How VoiceMap Works
Focus on your surroundings, not the screen
VoiceMap's audio tour app uses GPS to play audio automatically, at the right time and place. Just install it, then download your tour and go to the starting point to begin your walk, drive, cycle, train trip or even boat ride.
Follow a route with turn-by-turn-directions
Tours follow a route from a fixed starting point. This is how we provide turn-by-turn directions. It also helps publishers tell a story greater than the sum of its parts. But you can use Resume to pick up a tour from the closest location whenever you like.
Listen as many times as you like
You can listen to your tours as often as you like using both the VoiceMap app and the VoiceMap website. Your access to tours doesn't expire.
Take virtual tours anywhere
Just select Virtual mode in the VoiceMap app to listen to tours at home – or anywhere else. You'll see the option after you download the tour. You can also listen to the whole tour here on the website.
Buy for less on voicemap.me and sync
Once you've purchased a tour, it's added to your VoiceMap library. If you sign into the app using the same method you used on the website, you'll have access to your full library of tours in both places.
Use VoiceMap offline
The VoiceMap app works entirely offline if there's no data connection, so you don't have to pay roaming fees. Just download the tour over WiFi before you get started.
Major Landmarks
Conwy Castle

Menai Suspension Bridge

Llanfairpwllgwyngyll station

Caernarfon Castle

Snowdon

Betws y Coed
Directions to Starting Point
The tour begins in the Cineworld/KFC/McDonalds carpark just off the A55 at Llandudno Junction. Easy to reach from Chester (an hour) or Llandudno (ten minutes) the tour finishes in a carpark in Conwy just across the river.
Show Directions
Buying for somebody else?
If you'd like to give VoiceMap tours as a gift, you have two options: choose the tours yourself, or buy a voucher redeemable against any of VoiceMap's tours in 167 cities worldwide.
Buy a gift voucher

VoiceMap tours for large groups
If you'd like to provide groups of guests with access to a VoiceMap tour, you can buy a specific number of copies for a particular event or obtain a license for more regular use.
Find out more

Tips
Places to stop along the way
I'll give you advance warning of where to stop to visit castles, towns, museums, pubs and cafes. Caernarfon, Conwy, Dolbadarn Castle and Segontium Roman Fort opening times and entrance fees are detailed on Cadw's website.
Best time of day
During daylight hours. Avoid British Bank holidays where the narrow mountain road can get full of traffic.
Precautions
The lush grass and rushing waterfalls are there because it often rains in Wales - even in the Summer so be sure to take a waterproof coat. A good weather forecast for the mountain region which is wetter than the coast can be found at https://www.metoffice.gov.uk/weather/specialist-forecasts/mountain/snowdonia. Of course it can be hot too so remember water and a sunhat then. Make sure to obey all the rules of the road.