Discovering Conwy: The Medieval Walled Town on a Waterfront
Walking Tour
|

40 mins
|

1.3mi
About the Tour
Conwy is much more than a cute little town. On this walking tour, we'll retrace its medieval history back to its roots as a Norman settlement. I'll tell you stories about the castle, the town's fishing industry, and its modern bridges as we pass by locally-owned shops where artisanal butchers, bakers and chocolatiers sell their wares.
You'll journey down cobbled alleys and back streets while learning about the mighty Conwy Castle and town walls which were given World Heritage status in 1986 for being one of the most complete circuits in Britain. We'll tour the outskirts of Plas Mawr, justifiably known as the finest Elizabethan town house in Wales, and Aberconwy House which dates back to 1400. You'll also have a chance to photograph yourself against the Guinness Book of Records' Smallest House in Britain, and to walk across the Conwy Suspension Bridge, a masterpiece of Victorian engineering built by celebrated engineer Thomas Telford.
Come along – it'll be the best half hour you can spend in Conwy!
Tour Producer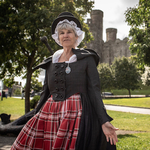 Amanda Whitehead
Hi there, I've been working as a tourist and mountain guide for 20 years and hold the official qualifications. I live in the medieval town of Conwy and love it so much. I have a History degree but the best thing about working on local tours is rooting out the stories of the past and present characters and events that haven't made the guide books and wikipedia!. Look forward to sharing them with you.
Major Landmarks
Conwy Castle and town walls

Plas Mawr Elizabethan Town House

Conwy Quay

Smallest House

Telford Suspension Bridge
Directions to Starting Point
Conwy Tourist Information Building. Do not confuse with Conwy Visitor Centre. The TIC is shared with the Post Office and is red brick building opposite Vicarage Lane carpark
Show Directions
Buying for somebody else?
If you'd like to give VoiceMap tours as a gift, you have two options: choose the tours yourself, or buy a voucher redeemable against any of VoiceMap's tours in 167 cities worldwide.
Buy a gift voucher

VoiceMap tours for large groups
If you'd like to provide groups of guests with access to a VoiceMap tour, you can buy a specific number of copies for a particular event or obtain a license for more regular use.
Find out more

Tips
Places to stop along the way
The World Heritage Castle, the medieval church, the High Street's artisan shops, the quayside and the Smallest House in Britain
Best time of day
Precautions
The route is safe. Take care to look out for traffic.