About the Tour
Cubbon Park is a major green lung of Bangalore. Spanning several hundred acres, it encompasses thousands of trees and plants of hundreds of different species. This tour will take an interesting route that will cover all the major landmarks inside and on the periphery of this gentrified park. You will also uncover several hidden gems along the route. Topics include the evolution of Bangalore; The British legacy; Trees of the park; Victorian-era buildings and the five famous statues inside the park. After winding our way through the shaded lanes of Cubbon Park, we will end the tour in front of Bangalore's most majestic building, the Vidhana Soudha.
Tour Producer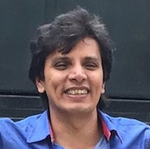 Praveen Singh
I'm Praveen Singh, a native Bangalorean with an abiding love of history and new places, an occasional marathon runner and a full-time entrepreneur.
I'm the founder of Hidden Gems Tours a travel company popular with expat and corporate citizens and our focus is on experiential tours of Bangalore and nearby destinations.
Major Landmarks
Government Museum

Sheshadri Iyer Memorial Hall

Vidhana Soudha

Cubbon Park
Directions to Starting Point
Queen Victoria statue at the main entrance to Cubbon Park. Opposite the Government Museum
Show Directions
Buying for somebody else?
If you'd like to give VoiceMap tours as a gift, you have two options: choose the tours yourself, or buy a voucher redeemable against any of VoiceMap's tours in 167 cities worldwide.
Buy a gift voucher

VoiceMap tours for large groups
If you'd like to provide groups of guests with access to a VoiceMap tour, you can buy a specific number of copies for a particular event or obtain a license for more regular use.
Find out more

Tips
Places to stop along the way
Several interesting trees and statues. Bamboo Grove, Rose Garden, Ringwood circle, Mahogany Avenue and Vidhana Soudha. British-era buildings such as State Central library, Government Museum, High Court and Bandstand.
Best time of day
Any time before 6pm. Note the Museum and Library are closed on Mondays
Precautions
Make sure you always double-confirm when crossing roads. Ensure your phone battery is fully charged. Wear comfortable shoes/sandals and a cap/hat. You will have several options to buy water/juice inside the park but it's best to carry your own.