Witches, Kidnapping and Mary Queen of Scots: 500 Years of Crime and Punishment
Walking Tour
|

45 mins
|

1.8mi
About the Tour
From bodysnatching and beheadings to witchcraft and whippings, we share real life stories of crime and punishment from the last 500 years.
Along the way you'll see major Aberdeen landmarks, from Marischal College to the Mercat Cross, and learn how they were witness to some of the most shocking moments in the city's past. In this audio guide we'll bring to life tales from the darkest chapters in Aberdeen's history, shedding a light on the baffling and often unjust laws of the last five centuries – and revealing that past is not as far away as we think.
Tour Producer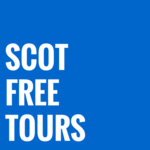 Scot Free Tours
Scot Free Tours was started in 2016 by born and bred Aberdonian Lia Sanders. Since then we have expanded across the North-east of Scotland and have started making audio tours. The idea is to give you the freedom to explore at a time that suits you - while still getting our 'take' on a place, with all the funny, gruesome or unexpected details that involves.
We'd love to hear what you think of the tour so get in touch via Facebook or our website.
Major Landmarks
Castlegate Mercat Cross

Salvation Army Citadel Aberdeen

Marischal College

Kirk of St Nicholas
Directions to Starting Point
Start outside the Tolbooth Museum on Union Street. It is 8 minutes' walk from Union Square, which is next to both the bus and train stations.
Show Directions
Buying for somebody else?
If you'd like to give VoiceMap tours as a gift, you have two options: choose the tours yourself, or buy a voucher redeemable against any of VoiceMap's tours in 167 cities worldwide.
Buy a gift voucher

VoiceMap tours for large groups
If you'd like to provide groups of guests with access to a VoiceMap tour, you can buy a specific number of copies for a particular event or obtain a license for more regular use.
Find out more

Tips
Places to stop along the way
Attractions: The Tolbooth Museum, Maritime Museum
Food and drink: There are plenty of eateries along Correction Wynd and The Green (which you reach at around the ¾ mark). I would particularly recommend Café 52 and their fried parsnip chips.
Best time of day
The tour is best started before 4pm so that St Nicholas Graveyard is still open when you get to it. If you want to visit the Tolbooth Museum at the start of the tour, it shuts at 5pm Monday to Saturday and at 3pm on Sundays. The Maritime Museum, which you can visit near the end of the tour, has the same opening hours.
Precautions
Every effort has been made to make sure that this tour is as safe as possible. Aberdeen is regularly ranked as one of the safest cities in Scotland and the UK. Having said that, be careful with your valuables and if you feel uncomfortable in a situation, get out. Please also use all designated crossing points and take every care while crossing the road or walking on uneven surfaces.