Stonehaven: Robert Burns, the BBC and Mars Bars
Walking Tour
|

60 mins
|

2.2mi
About the Tour
Stonehaven is not just a pretty little seaside town. Thanks to its fireball festival and its proximity to one of Scotland's most iconic castles, photos of Stonehaven have been beamed all over the world. Our tour tells you the stories behind these images - and if that wasn't enough we have tales of mutiny, the Titanic and the Scottish Crown Jewels.
You'll find out about the very special connections the BBC, Robert Burns and the capital of Australia all have to Stonehaven. And en route, you will get a chance to sample the traditional Stonehaven delicacy - a deep-fried Mars Bar.
This tour is perfect if you are on your way to Dunnottar Castle and want to see something of the town first. If you are staying in Stonehaven it is great way to get your bearings and see some of the hidden nooks, carvings and art you would otherwise have missed.
Tour Producer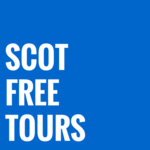 Scot Free Tours
Scot Free Tours was started in 2016 by born and bred Aberdonian Lia Sanders. Since then we have expanded across the North-east of Scotland and have started making audio tours. The idea is to give you the freedom to explore at a time that suits you - while still getting our 'take' on a place, with all the funny, gruesome or unexpected details that involves.
We'd love to hear what you think of the tour so get in touch via Facebook or our website.
Major Landmarks
Stonehaven Harbour

Stonehaven Tolbooth Museum

Stonehaven War Memorial
Directions to Starting Point
You want to start in the Market Square, next to the Market buildings. These are the buildings that are actually in the square itself. You should have these buildings on your left as you look into the square.
The Market Square is a minute's walk away from Stonehaven's bus station on Barclay Street and 14 minutes' walk from the train station.
Show Directions
Buying for somebody else?
If you'd like to give VoiceMap tours as a gift, you have two options: choose the tours yourself, or buy a voucher redeemable against any of VoiceMap's tours in 167 cities worldwide.
Buy a gift voucher

VoiceMap tours for large groups
If you'd like to provide groups of guests with access to a VoiceMap tour, you can buy a specific number of copies for a particular event or obtain a license for more regular use.
Find out more

Tips
Places to stop along the way
Giulianotti's sweet shop, Tolbooth Museum, Carron Fish Bar, Carron Tea Rooms, Andy Scott's Dolphin Statue
Best time of day
We suggest that you start this tour in the morning. This means that if after the tour you want to continue from Black Hill along the coastal path to Dunnottar Castle, the castle should still be open and you can visit it (their opening hours vary depending on time of year).
If you want to try a deep fried mars bar, I'd suggest starting at around 11am so that you get to the Carron Fish Bar for their lunchtime opening hours.
Precautions
Stonehaven is a very safe and welcoming town. The main thing to look out for are the drivers. Please take every care when crossing roads.
The last part of the tour takes you up to the War Memorial on Black Hill. Some of the path is uneven so we suggest you wear practical shoes.