About the Tour
Franz Kafka is one of the most influential writers in modern literature. Both his life and his work are tightly connected to the city of Prague. During this tour, we will visit the most important places in Kafka's Prague. You will see houses where he lived, the Jewish Quarter and the tiny alleys of the old town. These places have often inspired his writing and provided the subjects and settings of his texts.
Tour Producer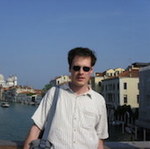 Christoph Amthor
I'm living in Prague for over 15 years, working as a journalist, co-founder of an NGO, blogger and software developer.
Major Landmarks
Old Town Square Prague

The Old-New Synagogue

Prague Astronomical Clock

Prague Statue of Franz Kafka
Directions to Starting Point
We will start outside outside Cafe Kafka, in Franz Kafka Square. You can reach it from the Old Town Square by walking towards the river. On the train, disembark at Staroměstská metro station and walk about 200 metres away from the river.
Directions from the end point to Kafka's Grave:
I'll leave you at Malostranská metro station. Climb down to the platform and take the train on your left hand side, where the incoming trains face towards you. The station where you need to get off is called "Želivského". If that's a little complicated, here is an easier hint: It is one stop after the station "Flora". Once you disembark, climb up to street level. In one corner of the intersection, you'll find the entrance to the Jewish cemetery. Inside the compound, make a sharp right and walk some five minutes along the enclosing wall. Kafka's grave is located at the big white sign with the number "21".
Show Directions
Buying for somebody else?
If you'd like to give VoiceMap tours as a gift, you have two options: choose the tours yourself, or buy a voucher redeemable against any of VoiceMap's tours in 167 cities worldwide.
Buy a gift voucher

VoiceMap tours for large groups
If you'd like to provide groups of guests with access to a VoiceMap tour, you can buy a specific number of copies for a particular event or obtain a license for more regular use.
Find out more

Tips
Places to stop along the way
Old New Synagogue, Spanish Synagogue, Týn Courtyard, tower of the Old Town Hall. You can conclude the tour with a visit to Kafka's grave.
Best time of day
During daylight. If you want to visit the synagogues, please check that it isn't a Jewish holiday.
Precautions
Watch out for pickpockets, especially around the Old Town Square.